Raúl (a.k.a. Rulo) and Patricio (a.k.a. Pato) are the Industrial Designers of our team.
Industrial Design is an essential area of the company, since it is where Products turn to life with their aesthetics criteria according to our client's needs.
They are usually presented with a specific idea or situation, and they have to come up with an original functional outcome. Usually, that means they create a prototype, which leads to the final result of the project.
Pato is in charge of the design of diverse products, among other assignments. For example the packaging of our #PhotoBox. At the moment, he is working with a very interesting global project, #TENS, and also with our project #WayBo collaborating with Engineers in everything that is related to the appearence of the products.
"The thing I enjoy the most about working here, is the diversity of projects, and the unlimited access to technology. Having the opportunity to work with a 3D printer is something that doesn't happen every day. Also, the contact with people that knows about different subjects; a multi-disciplinary team, which allows me to learn a lot. These kind of companies in Argentina, are not very common and I´m enjoying every minute of it".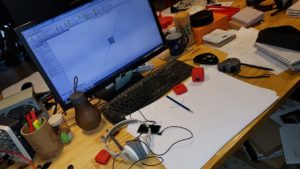 "Patricio's desk"
Rulo is also responsible for product design and prototyping, and he is currently in charge of one of our strongests bets, the #TachoUnoKit project, which will bring security to the taxi drivers. But that's not all…he is also collaborating with the Engineers in the development of project #WayBo.
"The access to diverse technologies for the products development is what I like the most about here. Besides, the possibility and availability of time to train myself in different subjects, particulary "Plastic injection", which I'm very interested in.

It's great to work with a multi-disciplinary team. We have an excellent working environment, especially the team members, which are very cool and all the ammenities that are offered to us; for example, having lunch all together" 🙂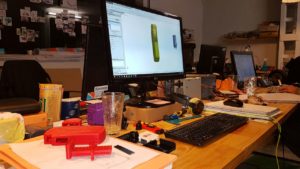 "Here is where Rulo works"
This team is very important for our performance. Their working criteron, is unique because they bring together all their resources, mind, hands, creativity and technology to make things happen. And this diversity, is what we tend to pursue in Viveo.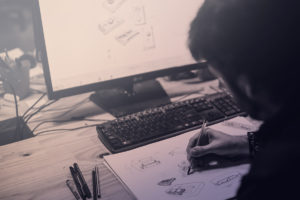 #ViveoGroup #IdeasTakingShape
Comments
comments