Mariano and Luis are the Engineers of our team. They work in everything that is related to electronics, wireless communication, engine power control and PLC programming.
Currently, they are working on our projects WayBo and TENS.
Mariano, says that by working here, he learns and trains himself all the time and that's exciting for him. He ensures that a company like this, is not very common in Tucumán.
Luis is excited by creating new things, and not working over existing things. He feels the satisfaction of reaching a result. To see what he has created, gives him a very important and continuous learning, and that is what makes the difference with other jobs:
"Considering the labour camp, this job is unique, because it allows me to do what I really love. I enojoy very much working with this group, because it's so passionate, everybody in their different activities.
I also appreciate the professional growth I feel, by trainign myself, and also the creativity arround".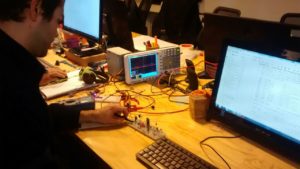 Mariano agrees with Luis. He says that, this kind of company, with all different kind of activities in one place isn't common. Also,
"I feel I gave my contribution to the growth of the company, that's why I really feel part of it. And that gives me a lot of satisfaction.
Every day, I keep on growing. The projects I handle, are very complex, and that represents a challenge for me, so  that turns very interesting my dayly job"
It is great to work with you guys!! 🙂
Comments
comments