Andres and Belen are the members of our graphic design team. They express, through a visual language, all the ideas that come to the study. They came up with an aesthetic response to the concerns of our customers.



Andrés is one of the oldest members of Viveo. He has been working with us for  more than two years, and he says that one of the things he enjoys the most is the good vibes of the group during the workday.  

He works on various projects, publishing, brochures; and also interface, which is the thing he likes the most; web and mobile.



"I like working in a place where you can find different disciplines. The multifacetic Viveo team is great. I'm always watching what the ID's, or MKT experts do, because I can know other points of view, learn a lot; and that allows me to see things with a different perspective.
Working in Viveo gave me a lot of experience in every ways, including the opportunity to travel and get to know other cultures to work.

Our bosses are very cool, and comprehensive, that gives us a lot of freedom to develop ourselves. An extra point: the opportunity to learn English!! ;)"
Belén is the teen of the group. Besides being a Graphic Designer, she specializes in video and animation. Currently, she is working on the project Pinch & Roll .



"What I like about this team, it is the multi discipline. I love learning from other people. Also the fact that it is a young team, because previously, I worked with older people, which makes the routine a little bit boring

I also like and appreciate, the posibility to train myself during the working hours ; because that allows me to grow as a professional. And the fact that some of the projects are international, motivates myself . Another thing I take for my professional growth are English classes .

I love the location of the study"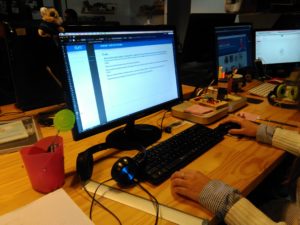 They are those who design experiences, according to our customers desires.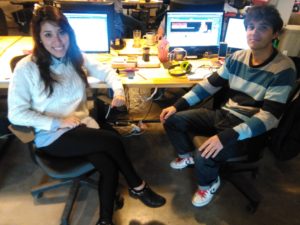 Comments
comments